So it was pretty emotional in Ghana when we lost 2-1 in Cairo. Emotional for all the right reasons, we had done enough in Kumasi to book our plane tickets and front row seats to the biggest and best carnival in the world.
Since mid-November the players have been focusing the nation's hopes on a Uruguay rematch and this time we will not miss (mainly because Asamoah Gyan has vowed never to take penalties again. Wise decision).
So you can imagine how we are now feeling, when we see we've been drawn against Germany (again), Portugal, and the USA (we meet again!). Germany sort of schooled us when we met in South Africa although we managed to hold them to just a one goal lead. The USA we have punished enough times, but they now have a new manager (Bob Bradley decided to find another team to be punished by Ghana with and has since been relieved of his services there too).
Below are the groups lineup with my predicted second-rounders in bold.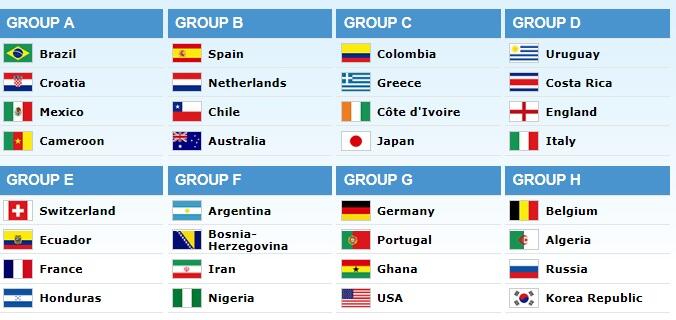 Group A: Brazil   Croatia   Mexico   Cameroon
Group B: Spain   Netherlands   Chile   Australia
Group C: Colombia   Greece   Cote d'Ivoire   Japan
Group D: Uruguay   Costa Rica   England   Italy
Group E: Switzerland   Ecuador   France   Honduras
Group F: Argentina   Bosnia   Iran   Nigeria
Group G*: Germany   Portugal   Ghana   USA
Group H: Belgium   Algeria   Russia   Korea Republic
*I can't bring myself to predict Group G
Am I right or wrong? Let me know and let me know your prediction for the Group of Death (G)!